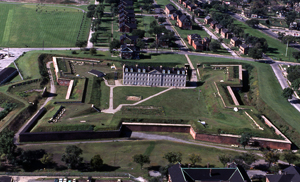 Fort Wayne, Detroit, Mi.


---
The History:
Located in the city of Detroit, Michigan at the end of Livernois Avenue sits historic Fort Wayne. Fort Wayne was the third military fort built in the state. Construction began on the fort in 1843 and was completed in 1851. The army chose to name its new fort after Revolutionary War hero General "Mad" Anthony Wayne who had won control of Detroit from the British in 1796.
The original star shaped fort was built to house the most up to date canon capable of firing on the Canadian shoreline as well as any ships on the river but due to new relationships with the British and later Canada by the time of the forts completion, Fort Wayne has never seen a shot fired in anger.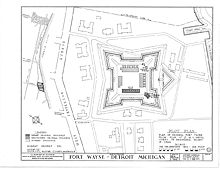 The first major use of the fort was as the primary induction center for Michigan troops during the Civil War and continued as an induction center for every U.S. conflict through Viet Nam. Other military uses included Motor Supply Depot where its proximity to the Motor City made Fort Wayne instrumental in acquiring vehicles for the military during World War 1 and World War 2. During WW2 Fort Wayne was also used to house prisoners of war from Italy.
Fort Wayne opened its doors to the homeless during the Great Depression and again in 1967 after the 12 Street Riot, with the last families staying at the fort until 1971.
Beginning in 1948, Fort Wayne was given to the City of Detroit in parcels. Piece by piece, Detroit came to own the entire fort with the exception of nine acres still occupied by the Army Corps of Engineers.
The Tuskegee Airman National Historical Museum is located on Fort Wayne; paying tribute to the brave young men who were determined enough to fight racial prejudice and discrimination and became America's first black military airmen.
Also located on the property of Fort Wayne is a Native American Burial mound that is over 900 years old. This area is fenced off to the public and the Native American tribes have decided to honor the ones buried here as the ancients and wish that they be left in peace.
---
Investigation date: 06/09/12
Equipment: K-2 meters, Mel Meter w/ rem, Digital camera's, camcorders, voice recorders,"franks box" w/ array,
Ovilus X w/ DTD, laser grid lights, emf detector, IR/UV camera,
touch sensors.
Baselines: Due to the size of this location, baselines on file

Video: Approx 3.5 hours- several locations Ir stills: 179 Photo: 300+

Investigation notes:
Weather was partly cloudy, winds mild (8-10 mph), temps ranged from 87° to 68° over the evening/morning. We have made this location a yearly event and have tried to study known active areas more aggressively. This year due to the number of people at location and that most stayed later than normal, known areas were not accessible as much as needed. This year we also had new buildings open which we spent considerable time in. There were several instances of the Rem Pod triggering within buildings. Period music did seem to increase activity but again, nothing tangible.


| | | |
| --- | --- | --- |
| Beverly and Vanessa in the sally ports. | | Matt, Mark, Beverly and Vanessa in the jail |
Evidence Review:
Audio evidence review was not successful due to noise contamination at several locations. EVP's recorded were sub standard for Marter website and cannot be used or we're unable to agree on the content. Video review at new locations was interesting but due to high dust levels we feel uncomfortable using any of it as evidence. Photo evidence was negative. On this investigation battery drain was big problem as it seemed we changed everything several times.


| | |
| --- | --- |
| Mark, Matt and Vanessa during a break. | |
Summary:
We do not feel this was a failure as we did have a really good time but some of the equipment used here was new to us or newly modified and had not been fully tested. External mics for the recorders are too sensitive for outside locations or inside breezy areas. Audio recordings of "franks box" were inclusive but this has been remedied by purchasing different spirit box and removing the antenna.


| | | |
| --- | --- | --- |
| | | Beverly and Vanessa at the burial mound. |
Since we have known areas we need to concentrate on them locations with improved, fully tested equipment.
Interference from non members unavoidable due to the location. New equipment on this years investigation should provide much better results.

---
We would like to once again thank Chris, Wayne and the wonderful gang at M.P.I. (

Metro Paranormal Investigations

) as
well as everyone at the Historic Fort Wayne Coalition.


Case status: Ongoing - further research